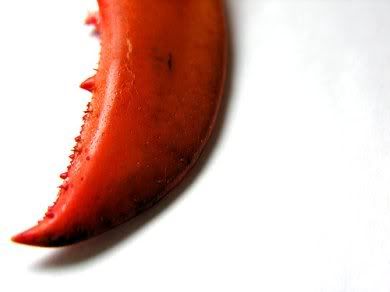 No, seriously.
We received a "Lobstergram" in the mail a few days back from one of Micah's grandparent sets (we're not sure which ones…they just signed "Grandma and Granddad"). We can actually cash it in for one (or two?) live lobster(s). What am I going to do with a live lobster?
Fortunately, the lobstergram has other options–and we're opting for the two lobster tails and filet mignon. Probably around New Year's, as a sort-of post-Christmas celebration. Our first new year together. Or we might hold off until January 7th, which is our half anniversary!
So chalk that up to strange but cool gifts. I mean, it fits some of the awesome gift rules–it's consumable, so it won't take up space. It provides a fun experience. It lets us enjoy something we normally wouldn't (we hardly ever eat out).
But speaking of lobster, I also had some at my department's Christmas party this past week. It wasn't just a party, it was a 3-course sit-down dinner at a very high-end restaurant. It was fantastic! There were salads and bruschetta and shrimp to start off with. Then main course which included a shrimp and scallop dish along with lobster ravioli (nothing like ordinary ravioli…lobster in pasta with an amazing sauce!) and some other entrees I didn't try. Micah said the other were good too.
They served it family style with replenishments available. Much nicer than a buffet–we just passed everything to the left. Fortunately, I was at a comfortable table with the people I work with most often and their boyfriends/spouses.
I'd estimate that my dinner probably cost $80 or more (but the dept. paid). I have never eaten such an expensive meal. Or such an astoundingly delicious one (I think)
Lobsters are coming into my life…
photo by bomb tea

Print Friendly