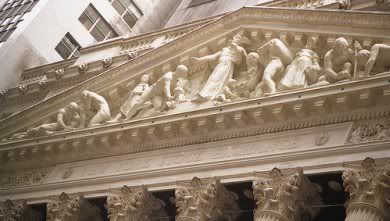 Maybe you've figured out a way to get around transaction fees and so you won't be losing money every time you trade. So you figure you'll take a chance on your smarts, the financial news, and trying to invest in the biggest stocks.
It's possible, but here's another reason why it's likely to fail.
I've been reading Confessions of a Wall Street Analyst: A True Story of Inside Information and Corruption in the Stock Market (affiliate link) by Dan Reingold, formerly one of the top two telecom analyists.
There's a lot of points to Dan's story, which takes place on the Street during the rise of the telecom/dotcom bubble and then as it popped. It seems very straightforward, though one can't help wondering if the author is making some editorial decisions to make himself look better. I know it'd be tempting.
Anyway, the point I want to address is insider analysis. Yes, there were insider trading issues at that point too, but let's focus on analysis, relationships, and whatnot.
These analysts had the advantage of being in the room when a CEO threw out a hypothetical question which made them all feel that his stock was going to sink. They were able to read his body language and catch his nervousness and attempts to cover it. Some immediately told the funds they managed to short sell his stock or just plain sell it. They didn't think it was due for an immediate crash, but they knew things weren't good.
You and I, my dear investing friend, don't have that advantage. We aren't "Fido" (Fidelity), who gets an early-morning call just as the market is about to open with the news that our analyst is downgrading his valuation of this stock. (Maybe something happened like in the CEO case or maybe because s/he's a good analyst.)
Basically, not only are we not trained, but we're not there. And we're not friends with people who will give us non-insider information to help us make good decisions. We can't afford their services.
Instead, by the time we hear about the company's problems, the stock will have already fallen several dollars. We may not be able to recoup our initial investment.
Let me contrast that to someone owning a Fidelity fund. The managers get the analyst's call and report early that morning. They take it into consideration with all the info they're receiving from other people and their own knowledge of the market. There are hundreds of trained people doing this. And then the person/people responsible for the fund decide to alter its balance.
The fund isn't affected (or is less affected) by the drop in price. They got the news sooner. They were better prepared to act on it.
And that is why we want them managing our stocks.
Personally, I'm an S&P girl–which means relying on a certain data set and just tracking the market (well, I'm going to get more in depth about the S&P in the future!). But actively managed funds at reputable organizations definitely have the edge over individual investors (unless, say, you're as rich as Bill Gates and can hire people in the know to help you pick your investments).
Buying funds is our way of hiring expensive analysts.
Disclaimer: Once again, Mrs. Micah can't guarantee any funds or any course of investing. If you need investing advice, please consult a professional (thought for goodness sake take what they have to say with a grain of salt too!). This is just my take on the way the market works.
photo by Agent Smith

Print Friendly