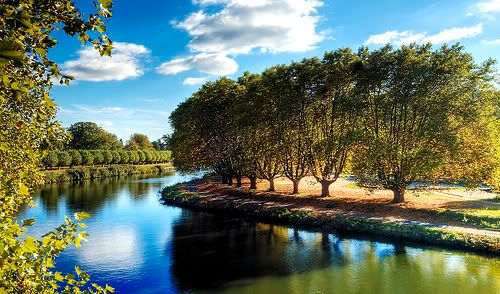 At my last job, I worked in a big cement box. It always felt cloudy, even on the sunniest days. My ray of sunshine came if I walked to a different part of the office and opened the door…then I could gaze over the rooftops of Arlington. Then after a beautiful moment, I'd go back to my fluorescent office.
I love getting to see the sky. But it's been gray all week and I'm ready for a change!
To brighten your mood, here are some good posts from my blogroll:
Lynnae at Being Frugal has kicked of the twelve days of Christmas—personal finance style! (I'm day 11–whatever will my 11 pipers piping be about? And yes, we know they come after Christmas, but you'll be all Christmassed out by then.) She also wrote a good post this week asking what subtle messages children are learning from us. Is the ATM the fount of all cash?
Five Cent Nickel shared a way to buy gift certificates for less than the face value. Sweet! See how this can brighten your day? That's automatic money earned.
Kacie at Sense to Save is a goddess of CVS. She doesn't call herself that, but seriously…she's amazingly cool at it. (and click here for Nick's amazing CVS adventure…) And then she was self-aware enough to write another post about how she should focus more on the total spent and less on the percentage saved.
Raymond at Money Blue Book has some ideas for cards students can get to help build good credit. To be used responsibly, of course! He also has a nice little fundamentals post on starting to get your financial house in order.
Like many of you, I subscribe to some of the huge blogs–but I don't always read them. I've been trying to read more, though, and learn from their insights as well as their success. This week, Leo at Zen Habits wrote about 25 actions to boost your self-confidence. Readers added more insights in the comments section. And before that, he did an excellent piece on living your life more consciously. Sometimes it's easy to let the days slip by…but when they're gone, they're gone. We can't live for the future, we have to live in the now. (Oh, and can you come up with inexpensive gift ideas to improve your life? See what people are saying…)
And then I noticed that lifehack.org had posted a review of his (Leo's) book: Zen to Done. It's a good review, gives some depth. Is it a simple, free substitute for the book? Probably not, but it can get you on the right track if you're feeling too frugal to buy.
Yes, it's still gray out. *sigh* All my conjuring with lovely pictures didn't help.
But on the plus side, I ran across a forlorn hat on the hospital's campus. I was about to step over it, when I realized it was mine–indubitably mine, since I crocheted it without a pattern. My poor lil' gray hat, which must have fallen out of my bag. So now it's getting a thorough wash. That's one good gray thing about today. 🙂
photo of my aspirations for the day by wolfgang staudt

Print Friendly