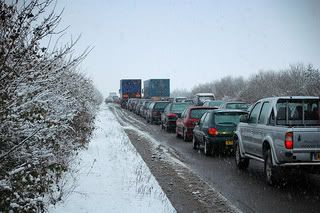 photo by tico24
Today I ended up working on my own when the woman I was working with got stuck in a traffic jam for hours. All the ladies at the clinic were very encouraging, but I was terrified at first. I worked with some of my most challenging babies so far, but things went quite well. I didn't have any accidents and some of the babies passed.
But it was a real challenge—I got to observe her working with babies who were just born early or something (or the well babies) and then I'm on my own with a baby who's just had brain surgery and another who has a seizure problem. The nurses were a big help on this (someday I'm going to write an ode to NICU nurses) and also very encouraging.
For your reading pleasure, I selected some good posts from my blogroll. 🙂
JLP at All Financial Matters has promised to stop talking about the subprime bailout, but before he promised he offered an excellent take on what I think led to the biggest subprime problems.
Frugal Zeitgeist is preparing her Plan B–just in case. Oh, and we've been feeling the same this week. *sigh*
Millionaire Mommy put together an astounding list of helpful financial calculating and planning tools. Sweet! She also wrote about what she'd do if she were a beginning investor. Hmm, I'm a beginning investor…
Nick at Punny reminds us of 10 great places to try if you're Christmas shopping on the 24th. And his wishlist includes a few items I'm sure we've all thought about. 😛
Drive safely, everyone!

Print Friendly