So today is my blog's three month anniversary! I've recently moved it over to Dreamhost and was just approved for BlogHer's Ad Network. Apparently being three months old makes me a legitimate blog an all that. Here's to legitimacy!
This far, I have 145 posts and 625 comments. 🙂
I also have 54 subscribers, if you're not a subscriber–consider making my day!
To celebrate that and my new iPod cover/case side business, I'm giving away a free personally-commissioned iPod cover/case. Just leave a comment suggesting something you'd like to see on my blog in the next three months. 🙂
Link to this contest in a post (with a trackback) and get an extra entry! (I'll just use the trackback). If your trackback doesn't work, then post a second comment with a link to your blog post. 🙂
The contest will be open from the time this post goes live until 10:00pm on Friday night (the 9th). I'll use a random number generator to pick a comment and then (as long as it fits the criteria) contact the winner to discuss specifics.
If you don't have an iPod or iPhone, I can make one for your regular cell-phone. If you win, just tell me your phone's dimensions. Or leave a comment and tell me not to enter you, because I love all kinds of feedback. 🙂
(To commission a case separately, simply fill out this form!)
Here's some sketches below of cases I'm currently working on. I don't have a digital camera, though I can borrow one later this week, I hope. So this is the best I can do now. Um–I'm not a great sketcher…. 😉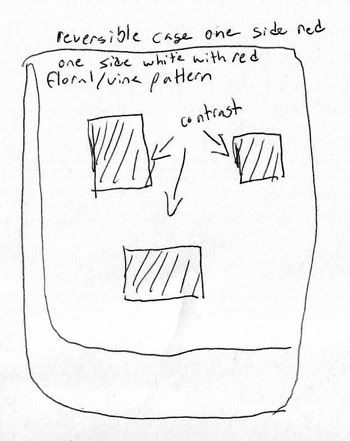 Like what you're reading? Subscribe to my feed today!

:: Stumble It!
:: Digg This!
:: Add to del.icio.us!
:: Reddit?
::

Print Friendly